Map & Directions
We're located in the Pecan Acres neighborhood in Flower Mound, TX off of 2499 across from the Texas Health Presbyterian Hospital. See the Google Map below for our exact location. Scroll down for information on parking.
4722 Bayberry St.
Flower Mound, TX 75028
For those that don't live in the Pecan Acres neighborhood, parking is located at the Pecan Orchard Park or just outside our neighorhood should the park fill up. Once parked you'll need to walk a few blocks to the Haunt. See the Google Maps screenshot below for a visual reference. Also please keep in mind the speed limit is 20mph on our streets!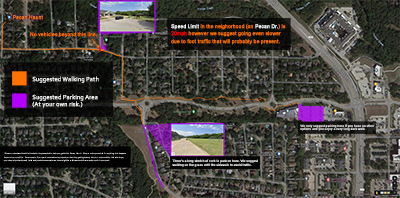 (Click to Enlarge)
We ask that you please not park in front of someone's house you do not know!